The Dangers of Settling
Posted on March 13, 2018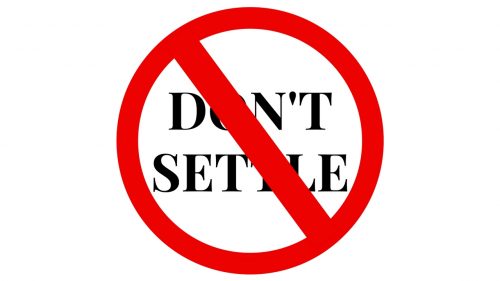 The hiring market is tough. Thankfully, economic recovery contracted the unemployment rate to just over 4.3%. While this is good for the US economy, low unemployment makes it a job seeker's market. Qualified candidates can be choosier than ever- and they're calling the shots.
Accept Labor Market Conditions.
Acknowledge the current market conditions. Understand your company may need to make changes to attract the best candidates. Collaborate internally and discuss your approach to hiring. Maintaining a realistic mindset will help maximize your ROI on recruiting in changing economic landscapes.
Don't Settle.
Settling is always a mistake. We understand that sometimes you just need an extra set of hands. However, it costs money to hire a new employee, train them, and retain them. If they under-perform, that creates waste. If they leave abruptly creating a void and a scramble to hire again, that becomes extra expensive.
Keep High Standards.
Just because job seekers can afford to keep their options open, doesn't mean you should change your standards. Remember, hiring is an investment; assess your current needs, but also think about the future. Candidates will appreciate emphasis on growth and career development. Highlighting the long term will improve your chances of bringing on the right person.
Don't Overlook.
Instead of combing through resumes to find the best match to your job specific description, think outside the box. Hire for attitude and train for skill wherever possible. You want to make the best investment. You want to hire a loyal employee that will live by your company's culture. Look for malleable personalities.
When hiring think about how a candidate can parlay their skillsets. Perhaps you're looking for a sales rep to sell to distributors. You find an operations manager from a distributor with excellent soft skills. Consider hiring for them for their existing knowledge and attitude and training them to sell. It's time to get creative.
Make your Company Competitive.
In a world where job seekers have options, make sure you run the comps. Just as you would when selling a house. How are other companies in your industry hiring? What compensation packages, benefits and perks do they offer? Does your company present opportunity for growth? In a previous article, There Should be No Mystery in Recruiting and Hiring Millennials, we discussed key factors in hiring and retaining talent in the work force's youngest generation. These elements apply to all ages in the job market, especially under current competitive conditions.
Engage your Recruiter.
Ask for help from the experts. Recruiters know how to think outside the box and source talent organically. By managing the hiring process internally, you may only receive applicants who are actively looking. Engaging a recruiter vastly expands your pool of potential hires and the quality of prospects. The best recruiters often find candidates already happily working somewhere else- and bring them to you. In the current economy, this method is one of the surest ways to hire a rock star.