SnapDragon Associates Expands Recruitment Team with the Addition of Jessica Genest and Nicholas Santella
Posted on September 08, 2023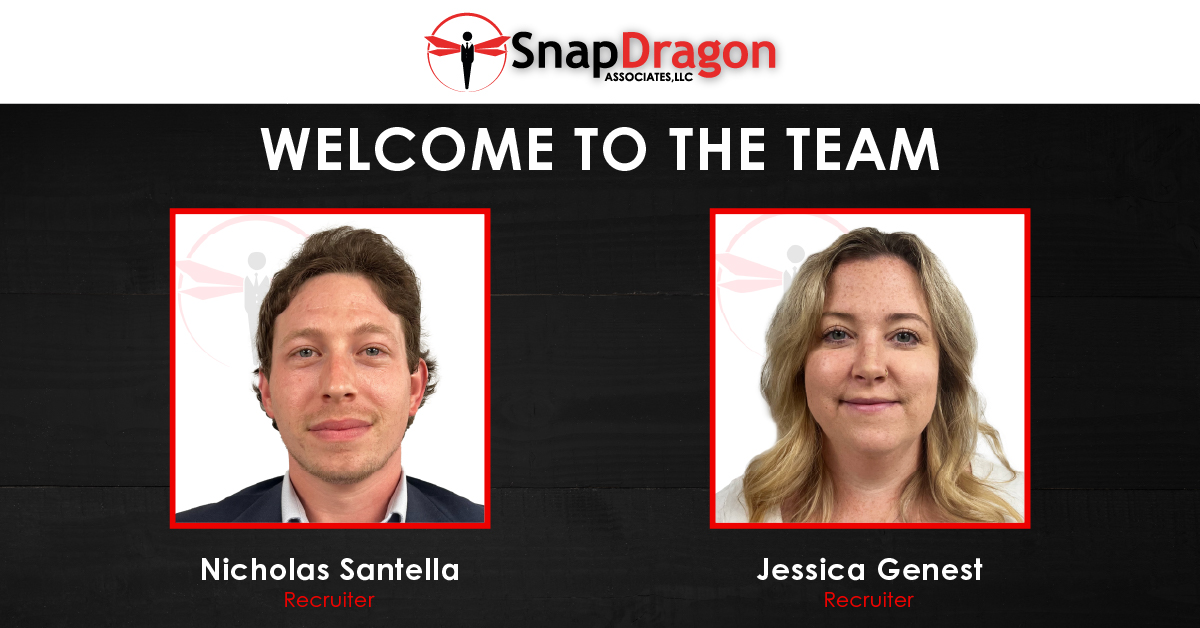 Bedford, NH  – SnapDragon Associates, a leading recruitment firm specializing in the building materials industry, is pleased to announce the recent hiring of Jessica Genest and Nicholas Santella as recruiters. Their extensive experience and industry knowledge will further strengthen the company's ability to provide exceptional talent solutions for their clients.
Jessica brings with her four years of recruiting experience, making her a valuable addition to the SnapDragon Associates team. Throughout her career, Jessica has built profound connections and lasting relationships within the industry. Her expertise in forging strong partnerships will greatly benefit both candidates and clients alike.
Nicholas, a seasoned Sales professional with seven years of experience, has found his top form within the recruitment space as a Full-Desk agency recruiter. Prior to joining SnapDragon Associates, Nicholas worked as an Account Executive and Roofer, gaining on-site experience within the building materials industry. He has also served as the Business Development Manager for Pella and Renewal by Andersen, expanding his footprint within the building materials community. Nicholas's passion for collaboration and active listening enables him to create personal and professional relationships, aligning perfectly with SnapDragon Associates' commitment to providing white-glove service to every partner.
"We are thrilled to welcome Jessica and Nicholas to our recruitment team," said Mark Barnard, CEO of SnapDragon Associates. "Their expertise and dedication to building meaningful relationships will undoubtedly enhance our ability to connect top-tier talent with our clients. We look forward to the contributions they will make as we continue to grow and serve the building materials industry."
SnapDragon Associates is renowned for its deep industry knowledge and personalized approach to recruitment. With the addition of Jessica Genest and Nicholas Santella, the company is well-positioned to meet the evolving needs of its clients and candidates.
To learn more about how SnapDragon can help with your hiring needs Contact Us.
For more industry news follow us on LinkedIn.