Why use a Retained vs. a Contingency Agency?
Posted on August 18, 2016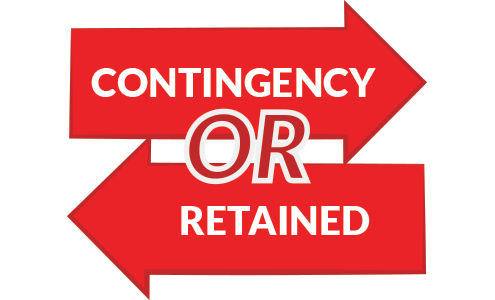 First, why use a Recruiter at all? That's pretty simple…Recruiting Agencies, while coming in all shapes and sizes, are generally operating Full-Time toward developing Candidates for your position. They are Professionals. Most will at least limit the time and effort of your Associates screening hundreds of non-qualifying Candidates that clutter their desks.
Every valued Associate in your organization has an Expense as well as a Return Value. When valuing their time, look at their Return Value. Your Hiring Manager may cost you $X in payroll, but for each hour he's not producing Revenue for the company, you are losing much more than that. For example, if you pay your Associates $X in compensation, you should be looking for a $X+ as a Return Value. That could be $X.2, or $X times 2, depending. That is the True Cost to you of his or her time spent reading dozens of resumes from people who quickly clicked "Apply" to multiple posted positions…many without even reading the Job Requirements.
Give your HR Associates and Hiring Managers the ability to be More Productive thereby getting more accomplished toward On-Boarding Qualified New-Hires…Using a Reputable and Results-Oriented Recruiting Firm will put your Associates in a position to evaluate only Pre-Screened and Qualified Candidates.
There are layers of Detail and Commitment to different Recruiting arrangements. While a Contingency-based program may sound logical, (you pay ONLY if you hire their Candidate), you may be Short-Changing your company by restricting the search to only the very surface of the Candidate Pool.
A Retained arrangement is in-place to permit the agency to spend Up-Front Dollars on Depth of Research, Technology, and Screening. This is Overhead many Contingency-based agencies do not support. The Top Retained Search Agencies will scour the Market very thoroughly, looking in the marginal as well as the obvious locations. "Turning over the rocks beneath the rocks." They will know your company's competition, and learn who and where the Movers are. As your Partner, they will Sell your Company to the Top Candidates. They will have taken the time to gain In-Depth knowledge of Your Business and the Roles you are looking to fulfill. If they don't do a lot of this Up-Front work, you are destined to receive Candidates who do not Fit your Profile, your Culture, or your Long-Term Needs.  More time lost, no Perfect Fit, and a higher Turnover Rate.
And face the fact that the Agency is not hoping to survive on an Up-Front Retainer, alone (which generally applies toward the fee, anyway). Their mission is to take the time, do the work, and not simply hand you dozens of Candidates hoping YOU will screen them yourself and pay a bounty on easily located Candidates.
There is widespread agreement that the most expensive component of a business is the people. Why increase those costs by risking Hasty choices, Bad-Hires, and Turn-Over? Use a Professional Recruiter as you would any Professional. And if you use one, use the one that Knows your Business, Fully Understands your Culture and Needs, and has the Resources to do it Thoroughly and Effectively. Most often, that will lead you to the Retained rather than the Contingency agreement. Retained Agencies work on a Quality vs. Quantity approach.
And, Ask for References. A Top Agency will be able to provide many Long-Term Associations in which their Clients will attest to the Value they bring with Long-Tenured and Productive Associates…and Guaranteed Results.
Good Luck with your Searches, but don't rely on JUST Luck!