THIS IS THE SNAPDRAGON DIFFERENCE
Posted on February 22, 2021 by Shannon Lavigne, Marketing Coordinator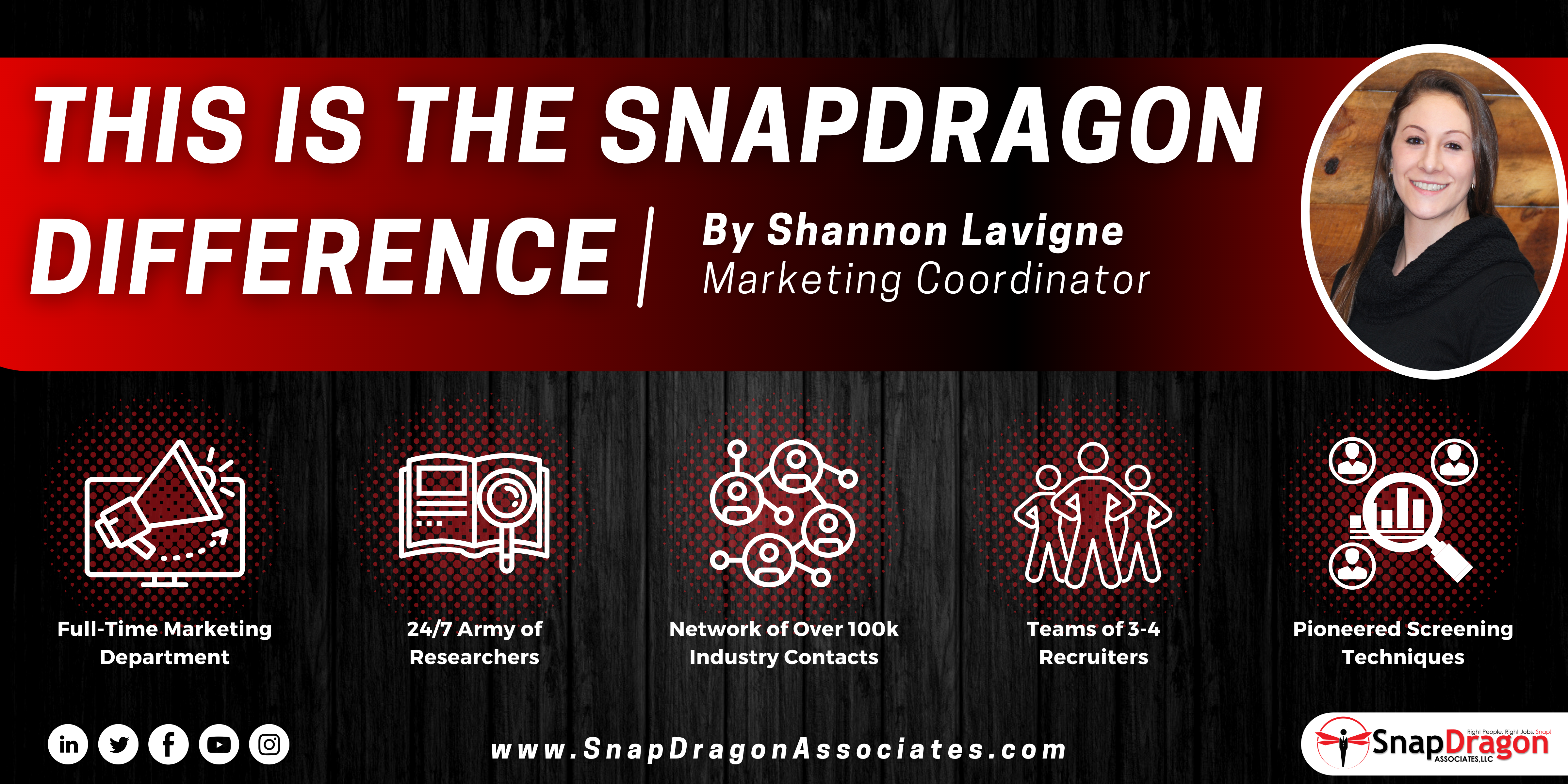 In the year 2020, we shattered a company record, placing 300 candidates into LBM specific roles all during a global wide pandemic. People often ask, how did you do it? SnapDragon's methods differ because we utilize techniques that no other recruiting firm does.
A Full-Time Marketing Department
24/7 Army of Researchers
Network of Over 100k Contacts in the Industry
Recruiters Working in Teams of 3-4
Pioneering Techniques to Screen Candidates
Marketing
The best way to get our name, jobs, and resources out to the public is utilizing the most basic form of marketing . . . pictures and videos. We deploy a mass of jobs, articles, and company-related material on our social media channels every day during working hours where people who are casually surfing the web and scrolling on their phone will see it. Our aim is to attract the passive candidate who is not actively looking for a new job.  However, if they were to see a new opportunity, they would not hesitate to step out of their comfort zone to switch careers. Our goal is to be visible to as many people as possible to increase recognition and thus responsiveness to our call.
Research
In order to give our recruiters the most efficient use of their time, we engage an army of researchers – some inhouse and others that are outsourced – to find the best possible candidates available. Candidates are often found on outlets like LinkedIn, through referrals, and just by networking; but our use of AI and other technology that goes into these processes greatly improve our success in targeting candidates. Our goal is to identify and recruit the Best-In-Class candidates, and our research focuses on the news makers, not the news reporters. After identifying these candidates, we screen them by using one of the most effective sales tools . . . picking up the phone and giving them a call.
Network
Having over 150 combined years of experience among each member at SnapDragon as well as over 100k networked connections, we have the resources to reach the people that we need to fill a position. We truly believe in the six degrees of separation, or the "small world phenomenon," which assists us in finding ways to get to that passive candidate through a network of referrals. Once we have gotten our target, the goal is to make them interested in the opportunity at hand.
 Recruiting Teams
In our firm, we embrace the saying "two heads are better than one." In our case, we use 3-4 heads per recruiting team. We have found over the years that the success of finding candidates and filling roles operates much more smoothly and quickly when a team of recruiters is assigned to more than one job. Each member of the team will have a hand in the process as the team works through sourcing, screening, and submitting. This means higher performance time with more eyes on the role, and helps each recruiter spend time on different jobs each day rather than being limited to 1-2 at a time.
 Pioneering Techniques
During the screening process we utilize three pillars of inquiry when identifying Best-In-Class candidates; skill set, quantifiable results, and culture fit. In order for a recruiter to present a candidate to the client, the candidate must be able to show that they have the qualities of each pillar that will qualify them for the position. We then use our online and phone techniques to deliver this top talent to the client for approval.
It is because of the advanced marketing tactics, ample support from researchers, large network, teams of recruiters, and pioneered screening techniques that we are so successful in doing what we do. The efficiency, technology, and strategy that we use at SnapDragon have paved the way for us to become BUILD Magazine's Best Building Material Recruitment Firm of 2020!