2017 "Founders Award"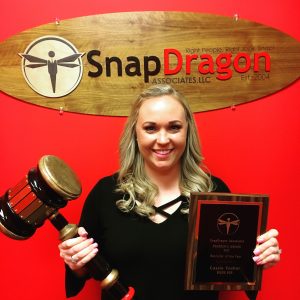 Mark Barnard, President and CEO of SnapDragon Associates, announced, today, the creation of the "Founders Award" to be presented, annually, to the Recruiter of the Year! This award is given to the recruiter who exceeds the Best-In-Class standards of Customer Service, Placements, Billing, Business Development, and Mentoring, we've set forth for our team. The recipient of the award is Cassie Fosher. Over the course of 2017, Cassie successfully filled 36 Roles, placing 36 Candidates in new career opportunities, with 29 Clients, as well as successfully partnering with 18 New Client Companies who are among the Best-In-Class Organizations in the Lumber and Building Materials Industry.
In addition to being recognized as Recruiter of the year for her achievements, Cassie also received "Partner" status within the company. Congratulations Cassie!
Contact Cassie:
603-621-9037 ext. 100
cassie@snapdragonassociates.com