LBM Advantage Trade Show in Review
Posted on March 07, 2018 by SnapDragon Associates, LLC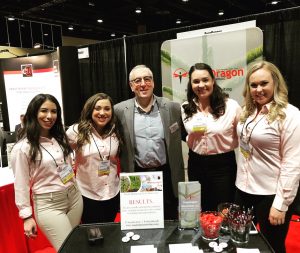 SnapDragon Associates attended the 2018 LBM Advantage Meeting & Trade Show in Florida. The entire event was incredible from the location of the trade show, to the LBM Advantage staff, to the networking events during the evening. There is a feeling of family amongst the professionals in this industry and it's great to see the progress business has made over the last few years. In addition, there were a lot of takeaways we gained from this event including, our overall experience at the show, the aging workforce, as well as insight on the job market and the unemployment situation in our country.
It's always interesting to see how people react when they hear the word "recruiter" during conversation. In general, recruiters tend to have a certain stigma attached to them; mainly inaccurate and negative. This was not the case at the LBM Advantage show, nor for our team here at SnapDragon. Our booth was packed with current clients, past clients, and other LBM companies who need help with their hard-to-fill searches. It showed us that these companies see us as an asset to their businesses and that we are known as a recruiting firm that provides the most important thing…. RESULTS. Attending industry-specific shows, like LBM Advantage, helps us stay up-to-date with new industry products, spend time with our clients, see our placed candidates, and remain industry insiders! This show also revealed how many companies struggle to find the time to hire. This industry is booming and busy which makes us wonder, would you rather spend time finding, screening, and interviewing candidates, or would you rather contribute to the selling and managing for your company?
The answer is a no-brainer!
During the show, we had the pleasure of meeting Doug Hoyle, National Loss Control Director for PLM (Pennsylvania and Indiana Lumbermen's Mutual Insurance Companies), and we discussed what the LBM industry needed most to continue thriving. It was unanimous that what this industry needs is youth. It's that word in HR that everyone hides from because it's not "professional" or "politically correct" to say. But it's the truth! The industry needs to be focused on attracting entry level talent, whether that is reaching out to local schools, taking a chance on hiring candidates who don't have any relevant experience, or offering bigger and better training for this age demographic. We must make the Lumber and Building Materials world more attractive by providing such and start filling our companies "benches" with youth.
The first morning of the show, we had the opportunity to listen to Chief Economist Robert Dietz, with the National Association of Home Builders, speak about the state of our current economy and how it affects the LBM industry in particular. One of the topics that sparked interest to us were the unemployment rates vs. the actual number of jobs available. The statistics proved that this industry is extremely slow to react to current salary ranges in this market. Both are issues that, we as recruiters, observe and face the ramification of each day.
From a recruiter stand point, there are a plethora of open roles that, in turn, provoke 5-10 calls PER DAY from old and new clients, inquiring us to recruit Best-In-Class candidates for them. Although it's positive to work on so many positions, companies struggle to remember the number of jobs has increased, while the number of viable and available candidates has decrease. There are less and less quality candidates on the market each day. The hiring market has officially gone from the client/companies in the driver's seat, to the total opposite; the candidates are calling the shots. This is causing a dire need for clients to be more willing to train the right personality. At the LBM Advantage show, we made sure to recite that point exactly, and coach our clients on how to move quickly on quality candidates while they can. The bottom line is, the days of taking 2-3 months to hire someone, are long gone.
In summary, we were grateful to be able to attend the 2018 LBM Advantage show. The entire event was composed so remarkably, and we are already anticipating for next year's event! There were some huge takeaways that we gained from our attendance there and look forward to what the rest of 2018 will bring!